East Bay Grille Restaurant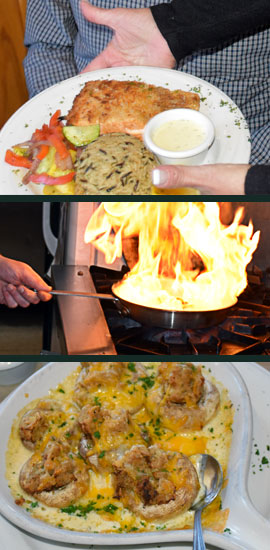 The East Bay Grille offer a casual, but an intimate dining atmosphere serving only the freshest & finest food available.

Our chef will be happy to accommodate any special dietary requirements that you might have.
EAST BAY GRILLE
Located in the Springbrook Inn
(1 mile east of Houghton Lake on M-55)
Summer Hours
(June, July & August)
Wednesday - Saturday: 5:00-8:00pm
(Closed Sunday - Tuesday)
Winter Hours
(September thru May)
Thursday - Saturday: 5:00-8:00pm
(Closed Sunday - Wednesday)
Open everyday Christmas Week (12/26 - 12/31)
Reservations Suggested ~ (989) 366-6347
Beer, Wine & Liquor Available
Our superb wine list is designed for the novice wine enthusiast as well as the most discriminating sommelier. Our knowledgeable wait staff will be happy to assist you in selecting a wine.
Menu
Welcome to The East Bay Grille! We hope your evening is a memorable one.
Tonight, your entrée will include - fresh baked bread with flavored butter, fresh daily vegetable and choice of potato (excluding entrees with pasta).
Appetizers
Baked Brie with Apples
Imported brie cheese wrapped in puff pastry with sliced apples, diced pecans and brown sugar. – 15.
Crab and Artichoke Dip
Rich crab and artichoke dip, baked hot in a sour dough bread bowl. Serves 2 or more! – 16.
Grilled Jumbo Shrimp
Six butterflied shell-on jumbo shrimp, grilled with garlic scampi butter. Served with cocktail sauce. – 12.
Teriyaki Tenderloin Tips*
Beef tenderloin tips, sautéed with red pepper, onions, portabella mushrooms and sweet teriyaki sauce. Served over wild rice blend. – 15.
Beef & Lamb
All beef cooked to order, we recommended Rare to Medium*
Serving only the USDA certified Choice or above.
Rare - Cool deep red center, Medium Rare - Warm red center, Medium - Warm pink center,
Medium Well - Warm light-brown center, Well - Fully cooked
House does not guarantee any beef or lamb cooked medium-well or above
---
Prime Rib (Available Friday & Saturday)
Spice crusted and slow roasted to tender perfection. Served with Au Jus.
Queen Cut – 28. | King Cut – 33.
Tenderloin Filet
7oz. filet topped with Chasseur sauce. – 34.
Plain Filet – 31.
Garlic Strip and Shrimp
A delicious New York Strip, grilled to order, topped with four sautéed jumbo shrimp and drizzled with garlic scampi butter.
10oz. – 34. | 10 oz. Plain Strip – 25. | 14oz. – 38. | 14 oz. Plain Strip – 29.
Braised Lamb Shank
Generously sized and slow cooked, served with red wine and lamb stock reduction sauce with notes of rosemary, garlic and cracked black pepper. - 35.
Poultry - Pork - Vegetarian
Baby Back Ribs
Slow cooked for hours to tender perfection, finished with house BBQ Sauce.
Half Rack – 22. | Full Rack – 29.
Honey Mustard Chicken
Two grilled chicken breasts, grilled and honey mustard glazed, topped with diced bacon, gouda cheese and crispy deep-fried onion straws. – 24.
Chicken Marsala
Two sautéed chicken breasts, served with roasted portabella mushrooms, in a decadent marsala wine sauce. – 23.
Soup & Salad
Soup Du Jour
Cup – 4. | Bowl – 6.
French Onion Au Gratin
Cup - 4.50 | Bowl - 6.50
---
House Salad
Romaine lettuce, field greens, shredded carrots, English cucumber, cherry tomatoes, croutons and your choice of dressing. – 4.
Caesar Salad
Romaine lettuce, cherry tomatoes, croutons, parmesan cheese and house made Caesar dressing. – 4.
Citrus Pomegranate Salad
Romaine lettuce, field greens, pomegranate seeds, orange segments, toasted pistachios, goat cheese and pineapple-mango vinaigrette. – 5.
Pasta
(Served with garlic toast and fresh daily vegetable)
Portabella Ravioli with Chicken
Portabella stuffed raviolis served in a rich marsala wine cream sauce with spinach, red peppers and red onions, topped with a grilled chicken breast. – 25.
Vegetarian (without chicken) – 23.
Rolled Goat Cheese Lasagna
Seasoned goat cheese, ricotta and caramelized onions, rolled in lasagna noodles, baked with house made red wine marinara sauce, and topped with a panko-parmesan crust. – 25.
Seafood
Surf & Turf*
7oz. filet mignon grilled to order and twin grilled 5oz. lobster tails. – Market Price
Grilled Lobster Tails
Two 5oz. lobster tails, split and grilled, while being basted with garlic-herb butter. – Market Price
Grilled Seafood Platter
Four butterflied shell-on jumbo shrimp and a 5oz. split lobster tail, grilled with garlic-herb butter. – Market Price
Jumbo Shrimp
Half pound of jumbo tiger shrimp deep fried to perfection. Served with your choice of cocktail or sweet chili sauce. – 27.
Pecan Crusted Walleye
Canadian walleye filet crusted with Old Bay, house seasoning and crushed pecans. Served with Orange-Basil beurre blanc sauce. – 28.
Bourbon Glazed Salmon
Grilled Salmon, bourbon glazed and served with roasted button mushrooms. – 27.
Yellow Perch
Great lakes perch filets dry battered and pan fried in butter. – 26.
Deep fried available upon request.
Dessert
The perfect end to a wonderful meal.
Ask your server about the decadent desserts we have tonight!
* Item may be cooked to order. Consuming raw or undercooked meats, poultry, seafood, shellfish, or eggs may increase your risk of foodborne illness.
Plate Sharing (Entrees) – 7.
20% gratuity will be added to parties of 8 or more.